As part of World Environment Day, SOCODEVI is proud to announce that nearly 20,000 trees will be planted in the coming months thanks to the participation of the Quebec Funeral Cooperatives Federation (FCFQ) in the Tree of Intercooperation program. These trees will compensate for the 2019 FCFQ's activities.
"For the funeral cooperatives network, the Tree of Intercooperation is a concrete way to promote intercooperation, international development, and respect for the environment. Our participation in this program makes it possible to plant a tree in memory of each deceased person we have received in the cooperatives network. Families thus know that the memory of their loved one continues to be honored in the form of a beautiful tree that will help protect life. We also compensate for the greenhouse gases produced by the vehicles used during funerals. This is one of the many initiatives taken by our network to promote sustainable development. "
-Alain Leclerc, executive director, FCFQ.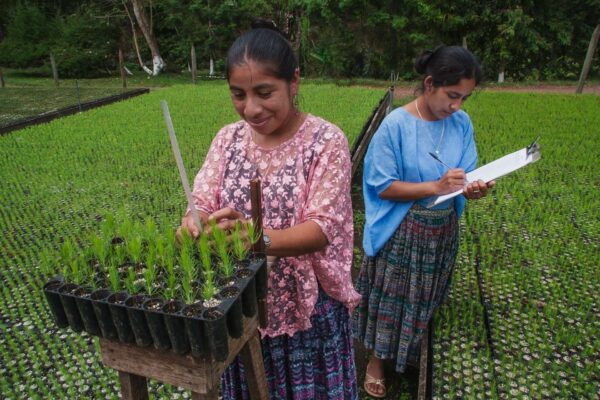 Since the program's creation in 2009, more than 170,000 trees have been planted in Quebec, Guatemala, and Peru. This is the result of SOCODEVI's commitment, but above all, of the desire of companies and organizations within the Quebec cooperative and mutual sector to offset their activities' carbon emissions.
A distinct and solidary compensation program
The planted trees contribute either to afforestation or to the families' agroforestry plots diversification in developing countries. At the end of their useful life, the trees are responsibly processed to generate considerably higher incomes for families and cooperatives, then a new cycle can start again.
Take action for the environment! Offset your carbon emissions while contributing to SOCODEVI's mission.
The tree of Intercooperation differs from other tree-planting programs for carbon offset by its focus on intercooperation and on improving the people's livelihood. It is based on a detailed protocol that follows the best practices in the field. This protocol is an integral part of the agreements that the partners agree to respect, ranging from site eligibility criteria to tree conservation.
In order to ensure that the carbon is adequately trapped, 20% of the trees planted are specifically used to offset the risks of inversion incurred by the use of living material. The plantations are georeferenced and carefully followed by specialists in the field who keep up-to-date reports.