Our logo isn't all about us that's green—SOCODEVI is getting greener every year!
For the second year running, SOCODEVI has been certified as a carbon neutral organization. LCL — Génie, environnement & développement durable has once more recognized our methodology and our dedication!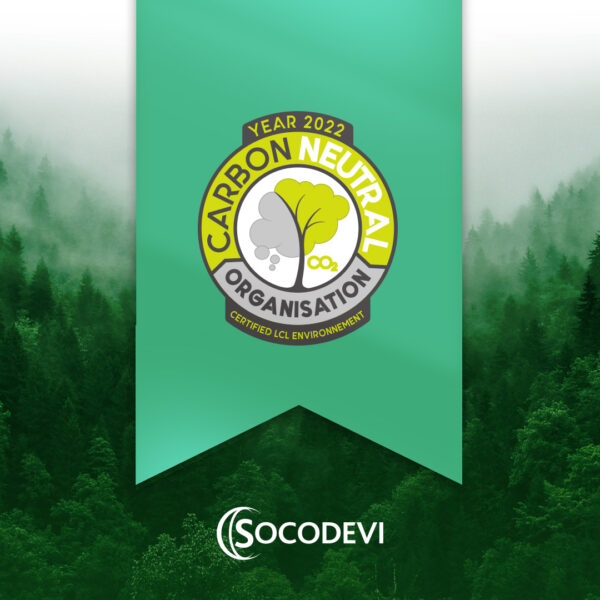 "SOCODEVI is proud to renew its carbon neutral certification for a second consecutive year. We continue to set ourselves apart and conduct our operations in alignment with our principles and values."

– JEAN-PHILIPPE MARCOUX, SOCODEVI CEO
On International Forest Day, we are proud to highlight that we offset our carbon emissions through our own program, the Tree of Intercooperation —a tool that we developed to reflect our values.
The Tree of Intercooperation remains an option in the offset guide presented to other clients certified by LCL— Génie, environnement & développement durable.
"Tree planting offers many co-benefits, such as expanding biodiversity, enhancing greening, reducing soil erosion and diminishing heat islands," according to LCL. "This is a unique program that helps organizations do a good deed for the planet, while also being part of an international project aimed at improving the living conditions of communities."
I want to know more about the Tree of Intercooperation

Reducing our emissions at the source
The annual recertification supports our continuous improvement and our commitment to reducing our emissions at the source.
Since the beginning of the pandemic, the dynamics of our work have changed. There has been less air travel and more remote support, and telework has gained ground in Quebec and various other countries.
We are continuing to build on all that we have learned so quickly over the past two years in order to innovate in our remote support and to optimize our air travel.
"We are very pleased to certify SOCODEVI as carbon neutral for a second year. Thanks to their initiative, 2202 trees will be planted to compensate for their 440 TCO2eq last year. We would also like to highlight their source reduction efforts implemented over the past year."
– STÉPHANIE TAYLOR, commercial director at LCL
Commitment and diligence
SOCODEVI possesses its own environmental policy and has been monitoring its carbon footprint and offsetting its emissions since 2009, but the entire process has been validated and certified since 2021.
I offset my emissions with the Tree of Intercooperation!
Data associated with SOCODEVI travel, events, infrastructure (electricity and heating) and material consumption across all the countries in which we are active are meticulously tracked thanks to our JGO accounting software.
This helps collect valuable information that forms the basis of our carbon footprint and allows us to identify opportunities to cut down on our emissions. Ultimately, any emissions that could not be avoided are offset.
To grant the certification, LCL — Génie, environnement & développement durable cross-checks the greenhouse gas inventory, initially drawn up by our environmental advisory team, and our way of calculating the GHGs emitted, because emission factors differ depending on the carbon source.
Data on the location of Tree of Intercooperation plantings in Quebec and in Guatemala are also analyzed, and evidence of tree planting and preservation is verified.