Strengthening the skills and power of women cocoa and cashew producers in Côte d'Ivoire through the women's leadership program.
In rural areas of Côte d'Ivoire, women's involvement in decision-making and leadership remains low. This is linked to the attachment of people to their traditional cultures, socio-cultural practices unfavorable to gender equality such as early marriage, female genital mutilation or the exclusion of women from inheritance. In addition, women's lack of knowledge about their rights and their limited access to information.
To respond sustainably to the challenges of women producers, SOCODEVI has implemented the women's leadership and management program, a training and experience exchange program for women producers and cooperative workers.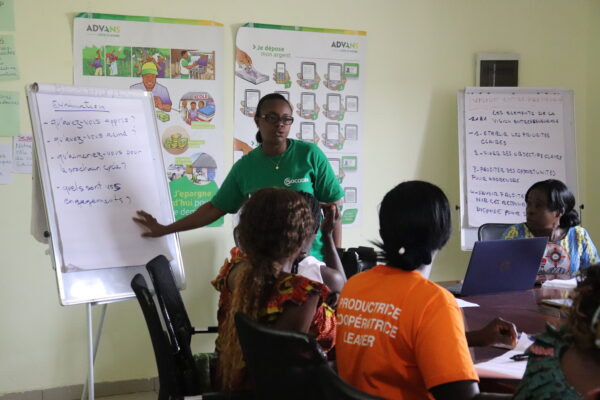 The women are selected based on their interest in being actively involved in their cooperative, commitment to ongoing training, spirit of learning together with other women, and solidarity.
"Before, I wasn't able to express my views at the co-op's board meetings", says Aman Madeleine, a member of the board of the FAHO co-op and a participant in the women's leadership program. "I was afraid to speak up. Since participating in the women's leadership program, I've been able to not only speak up but play an active role in my co-op's decision making."
Women's voices
Women's voices are essential in order to ensure that their needs are taken into account, and their leadership often has even greater benefits for their communities as a whole.
These activities aim to strengthen women's knowledge and capability in the areas of leadership, production management, co-op management, and cocoa and cashew value chains.
Upon completing three training workshops spread over three months, 35 women directors and producers from the regions of Abengourou and Korhogo had developed knowledge of their different value chains, benefited from the experience of women leaders from their cooperative, and committed to actively and meaningfully participating in their co-op's activities.
Since participating in the leadership program, Amankan Agnes has been appointed as a delegate to represent her branch at FAHO cooperative meetings.
" At the beginning of the program, I didn't know that I had capabilities and value, and that I could be a board member of my co-op just like the men. Women used to take a back seat and their actions were given little consideration. Through the leadership program, I learned that women's contribution is important in a co-op."
AMANKAN AGNÈS
FAHO Cooperative delegate
As part of the program, women leaders from the Abengourou region participated in a local radio program. They were able to express themselves and raise populations' awareness about women's leadership and the importance of women's participation in cocoa production.
A program that is bearing fruit…
Under the leadership of SOCODEVI, the network of women producers of the FAHO cooperative was created to promote solidarity between women cocoa producers and their involvement in the sector.
"We help develop cocoa production, yet face enormous difficulties in carrying out our work. This is why we, the women leaders of the FAHO cooperative, have decided to set up a network to help each other overcome the difficulties we face. There is strength in numbers. By joining together, we will have the strength to work and improve our living conditions."
KOUAO N'GUESSAN
Cocoa farmer member of FAHO
The second cohort of the leadership and management program launched in October 2021 will strengthen the knowledge and capabilities of 30 other women producers in the area of involvement in cooperative life. If the trend continues, other major women's initiatives will follow.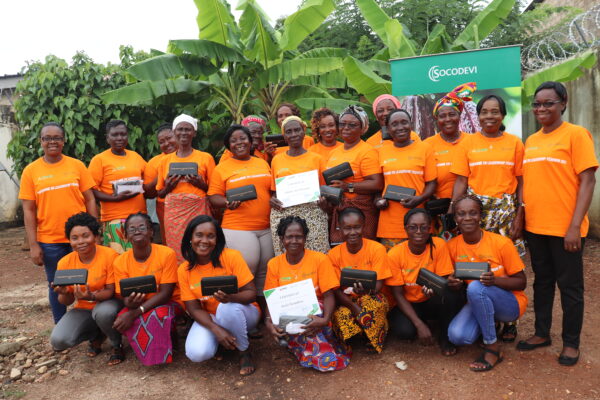 SOCODEVI's support is provided through the PROCED project, funded by Global Affairs Canada. The objective of this project is to improve the living conditions of cooperative member households, particularly women, in the target regions of Senegal, Côte d'Ivoire and Ghana, to promote women's empowerment and to help along the development of sustainable and inclusive model cooperative enterprises.